2007 Decorating Trends – The Little Things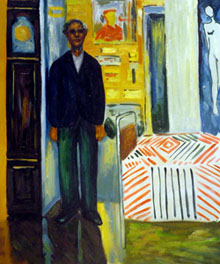 Little changes make big differences! So many people concentrate on the bigger aspects of design to give a room a makeover. What they don't realize is that the little things can make such a big difference!
Drawer pulls and knobs, pottery, artwork, mirrors, and one of my most recent favorites—unique headboards! I am a huge fan of the Japanese style! So, when my husband and I moved into our new apartment a couple of weeks ago, one of the very very few things that we didn't need to buy was a bed frame. I love the idea of a bed on the floor–it's easy, and it's great feng shui!
One thing that I have really been looking into is creating a unique headboard. There are some fabulous ideas for this! For example, find a horizontal piece of artwork, frame it to fit the width of your mattress, and hang it on the wall above your bed (leave about 6 inches between the top of the mattress and the bottom of the work). Or, buy a number of blank, ready-made canvases and paint them the color(s) of your choice. Then, hang them on the wall in a level row (or do several rows) behind your bed (the same concept can be used by stretching fabric over the canvases).
One of my favorite ideas is to use a Japanese screen as a headboard. There are numerous styles! Just pull your bed out a bit from your wall to allow the screen to bend at the hinges.