3 simple rules for hanging art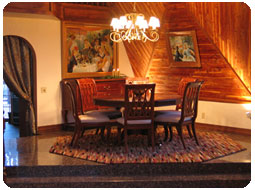 Many people ask me if there are any conventions for hanging artworks in your home. Well I thought of a couple of simple rules to follow to ensure that you are getting the most out of your space.
Size the item proportionally. When viewing art, there is nothing more unpleasant than seeing a small painting hanging on a large wall over a big sofa. Use your space well. If you must hang a small painting that you love in your big living room, place other works of art on the wall as well.
It is important that you hang your oil paintings at eye level when standing. That ensures that people will enjoy the art the most.
When filling in space try to coordinate your works of art with the main piece. In other words, match frames, colors and textures so the whole wall will blend and be appealing to the beholder. You need to think about the big picture. You want to establish a full palate that pleases the eye, bringing all pieces together as one.
These are 3 simple rules that have guided me through the years, as long as you respect the size of your space and match the art with your color theme and ambiance there is not much that you can do wrong.