A Jackson Pollock sold for $140 million and bought for five bucks…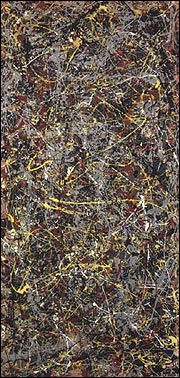 Tonight, Teri Horton, a 73-year-old former truck driver from California, will appear on the Late Show with David Letterman telling viewers about her unlikely find: a large-scale drip painting by the American Expressionist Jackson Pollock, which just recently became the world most expensive artist.
Last week, David Geffen, the owner of DreamWorks sold his beloved No5, 1948 Pollock for an estimated $140 Million. If ever accepted by the art community, Horton's painting could be worth $50 million. Her story has now been made into a documentary film called "Who the #!@$ is Jackson Pollock?" which opens in New York next week.
This is truly a remarkable story that starts 15 years ago in San Bernardino California, where Horton stopped in a thrift-shop to buy a gift for a friend. There, she found a big ugly painting (as she describes it) and she bought it for five dollars (haggled down from seven…).
Her friend could not fit the big board into her trailer, so Horton put the painting in a garage sale. An art teacher in town noticed the painting, and remarked that it looks very much like a Jackson Pollock. Thus began Horton's 15 year struggle with the skeptical art world, a life journey that has now been turned into a movie.
This story can provide inspiration to us all in hope that may be we'll find a Jackson Pollock, or a Picasso one day… the chances are very slim, and even if it is genuine, your finding will be highly scrutinized.
Horton was recently offered $9 million dollars by a collector from Dubai, but refused to accept even though she is living on social security. They say that this truck driver is simply enjoying the ride.