Add Autumn Flair to Your Home with Hot Fall Decorating Trends
Fall is in the air, now bring it in to your home with the season's hottest decorating trends. Design Expert Dawn Kail of overstockArt.com, makes it easy to add a little fall flair to your home décor with a top five list of decorating trends and tips.
"Fall décor trends feature a mosaic of different colors, textures and decorating styles," said Kail. "By adding the rich jewel tones and various vintage and natural design elements you will create a cozy autumnal setting that brings the beauty of the season inside your home."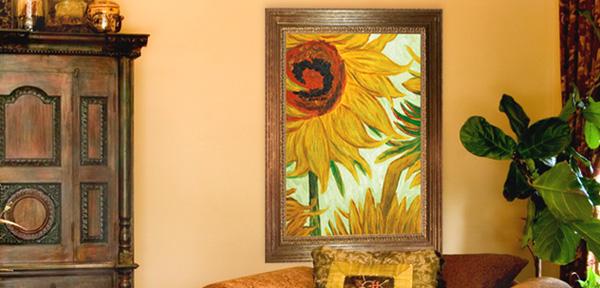 Create a fall feeling in your home with Kail's top five decorating tips:
Rich jewel tones – According to the Pantone Color Institute, the must have fall colors include navy black, coffee brown, phlox (a deep purple shade), jade green, rust, asparagus and pumpkin orange. An easy way to incorporate these rich jewel tones is to add a touch of the colors with pillows, rugs, throws and painted accent pieces.
Visual and actual texture – Home décor trends this season are marked by a comforting combination of visual and actual texture. Mix wood furnishings with opulent velvet upholstery, herringbone rugs, wool throws, and thick, textured fall themed oil paintings.
Natural décor elements – An easy way to bring the beauty of fall's rich color palette into your home is by decorating with natural elements. Create a vibrant fall leaf arrangement by displaying fallen branches, leaves, dried berries and acorns in a glass bowl or on the mantle. Bring the outdoors into your living room with a coffee table made from a slab of wood, stone vases, and marble decorations. Use natural fabrics throughout the home: wool throws, burlap pillows, and organic cotton bedding.
Vintage – Another trend this season is to make old things new again. Decorating with vintage décor in our twenty-first century spaces creates a comforting sense of nostalgia and warmth. Now is the time to go through your old heirlooms, garage sale and flea-market finds and show them off in a new light. Time to decorate with grandmother's vintage jade glassware, the embroidered pillow you found at a thrift shop, and the antique chair you just re-upholstered in lush velvet.
Double-duty décor – Multi-tasking goes into overload in the fall with busy back-to-school schedules and holiday planning already begun. Double duty home décor items that bring style and function into your home are very trendy right now. Use decorative bowls for display and to organize small household items and school supplies, add a welcoming and useful touch to your front entryway or foyer with wall mounted coat racks, or use fine art trivet tiles during your meals and to introduce the fall color palette to your kitchen and dining room.
"The key to home decoration is to keep your furniture neutral so you can easily add a piece of artwork or accent item to give the room a whole new look," said Kail.
Do you have any cool fall decorating tips to share? Looking for a second opinion on your own decor? Let us know and we'll be happy to take a look!