Adele Bloch-Bauer II on its way to auction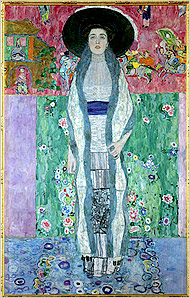 After Adele Bloch-Bauer I sold for a whapping $135 million. The next in line, Adele Bloch-Bauer II, is about to hit the auction house. This painting is estimated at around $40 to $60 million.
There are actually going to be four Klimt up for auction November 8th at Christies, the portrait Adele Bloch-Bauer II and 3 other landscapes including the famous "Birch Forest" (1903) estimated at $20 to $30 million.
These paintings are the last of five paintings that were retrieved from the Austrian Government that held on to these precious works ever since the Nazis took them away from the Jewish Bloch-Bauer Family during World War II. The paintings found their way back to the hands of their rightful owners after 20 years of legal battles.
The Gustav Klimt gallery at OverstockArt.com has a great selection of very unique Klimt reproductions done by hand on canvas oil paintings. They are all handmade and therefore, share a great deal of power much like the originals.