Affect of Great Art on Child Development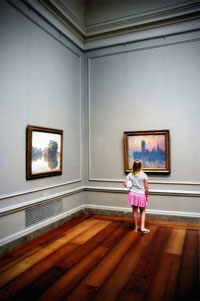 For many years, doctors and cognitive researchers have urged us to expose our children to fine classical music. CD's and DVD's are being marketed and sold worldwide preaching the ample affects music has on our children's development.
Classical music represents the epitome of harmony and musical sensation. It is a creative enhancing technique such as music that can augment a child's development. This is also true of a toddler's first encounter with visual artistic greatness.
With that said, I set out to research what are the affects of great masterpieces such as famous oil paintings by Monet, Picasso and Van Gogh have on child development? Is the exposure to these great works of art like the affects of listening to Beethoven?
Oil paintings such as Claude Monet Impressionism have been proven to stimulate the senses and make children more aware of their surroundings and spiritual world. The presence of art alone, serves as a therapeutic device.
Exposing children to great oil paintings from the time they are born can nurture the intellectual process. Art exposure can help their social progression. We see this especially in maltreated children, as art presents a very useful tool to bridge the gap between the actual and cognitive age of the maltreated child.
Painting, Drawing and other masterful skills have a great affect on a child's cognitive, social and motor abilities. Their ability to create art can also be used to improve confidence when their efforts are complimented.
Art also has a profound outcome on the behavior and brain development of the child.
Researchers have shown that by incorporating art into a toddler's curriculum the child develops and matures. Sometimes, the problems that a child faces cannot be reversed, but exposing them to art might relieve them from some of their troubles while enriching their cognitive, social, and emotional abilities.
The presence of art can serve as therapy. Since the child is most apt at building connections while as an infant, it would be most helpful for the child if art were revealed to them as soon as possible. But since this cannot always happen, art still provides older children with the chance to communicate and express what they think while enhancing their own behavioral and intellectual skills.
So expose your children to visual art as early and as much as you can. Expose them to the magical surreal world of Salvador Dali or the majestic views and scenery of Vincent Van Gogh or Pierre August Renoir. It will help your children think creatively and rationally.