Al Pacino as Salvador Dali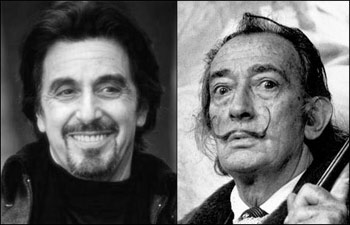 A new film called "Dali & I: The Surreal Story" is in the making.
The story is based on a novel written by Stan Lauryssens who had a special mentor-protege relationship with Salvador Dali during the 1960's through the 1980's.
The leading role will be played by Al Pacino, the brilliant film star will have his chance to depict one of the most creative, flamboyant characters of the 20th century.
The life and works of Salvador Dali have been a source of great intrigue and controversy. It should be interesting to see how Hollywood will embrace Dali, hopefully they will reflect on his artistic genius just as much as his extreme behavior.