Theater Love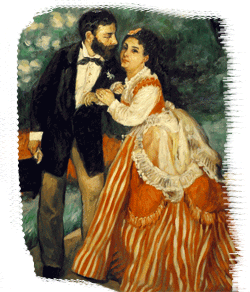 The oil painting The Engaged Couple painted 1868 oil on canvas by Pierre Auguste Renoir reminds me of how great it is to go to the theater.
The couple side by side, a beautiful woman, in a long formal dress with elegance, blossom in her hair and corsage.
Her companion a man dressed in black formal attire with handkerchief in his hand enjoying a wonderful event.
There are numerous couples that attend Broadway plays who are season ticket subscribers to Broadway productions tickets ranging from $20.00 for standing only to over $150.00 for plays such as Wicked.
From my experience, it doesn't really matter what the play is about when it comes to Broadway (they are all excellent!!!) what makes a play enjoyable is the feeling you have attending such a pleasant and intriguing event with the one you love.
When was the last time you dressed in formal attire with a spouse or friend and attended a play? What a wonderful opportunity to take in the mood formal attire puts you in.
Theater is an opportunity to meet people before the play or during intermission while having cocktails or refreshments. When thinking of the grand oil paintings of Renoir with the beautiful big hat's the woman wore and beautiful elegant table settings it makes me want to dress-up and go out on the town!
The next time you see an advertisement for a Broadway play, become Renoir's couples and don't forget to dance the night away…