Art Museums to See before You Die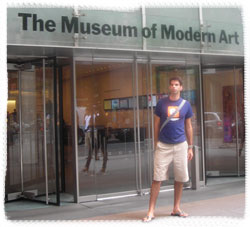 Botticelli, Da Vinci, Van Gogh, Monet, Picasso, Rembrandt, etc. – these names are some of the most celebrated masters of the art world. With the improvements in technology, their masterpieces are widely available for view online, in books, on post cards, etcetera, but this cannot be used to replace the real thing. Seeing prints of these incredible works of art is the equivalent to seeing a movie instead of reading a book; you get an idea of what it's about, but you cannot possibly capture the magical essence of the story or its characters. When you see a painting in person, the brush strokes tell a story about the artist who created them and his state of mind while he painted. The image is a visual manifestation of the artist's secrets and thoughts that cannot be taken for granted or replaced. Although it is impossible to list all the best museums in the world, here is a basic list of museums you must see before you die. They house the greatest and most popular masterpieces that cannot be replicated.
Metropolitan Museum of Art – New York City, New York. Located right in the continental United States, this is probably the easiest museum to begin your journey. This is one of the world's largest museums with over 2 million pieces of artwork. Don't expect to finish this in one day, but you can ease the load by purchasing a book or guide and deciding which pieces you want to see the most. The building itself is a work of art and guaranteed to inspire.
MoMA (Museum of Modern Art)—New York City, New York. While in New York City, you must stop by this incredible collection of famous modern art. Dedicated to being the foremost museum for contemporary and modern art in the world, the MoMA houses works by Van Gogh and Monet, but also boasts considerable Matisse, Picasso, Magritte, and Dali collections. Visit this museum if you truly want to see the inside of an artist's mind.
Musee du Louvre – Paris, France. The world's most famous museum, the Louvre alone is reason enough to visit Paris. Again, do not expect one or even two days to suffice. Housed in the old Louis Monarchy palace that features the glass pyramids, the Jardin des Tuileries, and halls and halls of incredible artwork. Divided into halls by time period, if you're limited with time you can choose which eras you appreciate the most, but the best thing to do is buy a book or look online and decide which pieces you want to see the most. With works of art like the Venus de Milo, the Mona Lisa, and countless Greek, Egyptian, and Renaissance works, everyone will find something they want. If the price tag of admission is a little too hefty, try going on a Thursday evening. It's crowded, but admission is free.
Musee d'Orsay – Paris, France. Housed in an old train station with a breathtaking glass roof, the art simply belongs here. This collection of 19th and 20th century art houses incredible paintings by Monet, Van Gogh, Lautrec, Monet, Manet, Renoir, Degas, and countless others. Van Gogh's "Starry Night," the famous Whistler, and Degas's ballerinas do not even begin to break the surface on the famous paintings you'll find here. It's also a little less crowded than the Louvre, so you can get closer to the paintings.
Uffizi Gallery – Florence, Italy. Originally constructed to display the Medici art collection and now housing some of the world's most famous Renaissance paintings, the Uffizi Gallery features works by da Vinci, Michelangelo, Botticelli. See "David" and "The Birth of Venus" among thousands of other's in one of the world's oldest galleries.
This very basic list outlines some of the most influential art galleries in the world. Despite your personal art preferences, every person should visit every one of these before they die. Once you fall in love with the works hanging on the walls, bring them into your home. Now that you have seen them in person, you can surround yourself with art replicas to remind you of the originals (think watching the movie because you don't have enough time to read the book in one setting). There are plenty of sites online that sell oil painting reproductions. Try to find one with paintings hand painted by actual artists for the best results. Either pick a room in your home or decorate the entire home with these lovely paintings. Like a blank canvas, remember that the less you have going on in a room, the more beautiful these paintings will look when they add a pop of color. Add art lighting on the ceiling to bring dramatic attention to the paintings and you will be reminded of your wonderful travels every time you see them.