Can a single work of art propel a museum to greatness?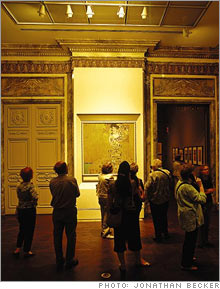 I read an interesting article on CNN, telling the story of Ronald S. Lauder, the Cosmetics Billionaire who has bought for a record breaking $135 million, the Gustav Klimt masterpiece Portrait of Adele Bloch-Bauer I. The painting is now a part of the Neue Galerie in New York, and has created a buzz around the city. This once obscure museum of Austrian and German Modern Art is now drawing in record numbers of visitors mostly due to "Adele".
The question on everybody's minds is can an extravagant, nearly inconceivable oil painting acquisition turn an obscure museum into a must-see destination? Can a single painting – even a $135 million one – lift a museum to prominence?
Since it went on view to the public, visitor numbers have jumped to around 10,000 a week. In each of the past three weeks the museum has set at least one single-day attendance record.
Klimt started painting Portrait of Adele Bloch-Bauer I in 1903 and completed the painting in 1907. He used gold in the dress and the background. It is astonishing to see how the background and the dress blend yet remain separate. Also note how alive the little bit of green in the bottom left-hand corner and the red of her pouty lips.
So, if you are in New York, and would like to see first hand what all the fuss is about go to 86th street to the Neue Galerie and say hello to "Adele" for me…