Can DNA explain Salvador Dali Genius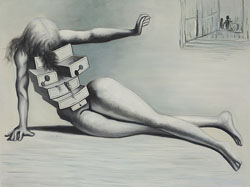 It's as surreal as one of his own paintings: Salvador Dali, the father of Surrealism is placed under the microscope… trying to explain the complexity of his character and artistic genius by looking at none other then his own DNA…
Michael Rieders, a forensic scientist has collected DNA samples and was able to recreate a genetic "fingerprint" of the Spanish master. By tracking down Dali's DNA fingerprint, he could use it to help authenticate the handful of paintings and artworks that are not signed but are claimed by some to have been painted by the father of Surrealism.
According to the article in The Guardian ", Another possibility would be to study Dali's DNA for clues to his artistic genius. Perhaps he had a mild form of schizophrenia or bipolar disorder which fueled his creativity."
Schizophrenic or not, Dali's art and artistic flair will always lie on that thin edge of genius and deranged.