Contemporary Art Smashes Record Books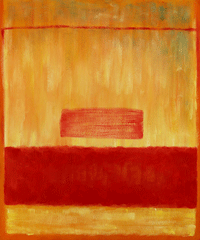 Art is on the rise. Almost every genera and style of visual art has soared in popularity as famous works of art are being bought and sold for record prices.
We are all used to the great impressionist and 19th century virtuosos like Van Gogh, Monet and Renoir recording 7 and 8 figure price tags. Recently it has been the contemporary artists that have pushed the limits as of how much one is willing the cough up for a handmade oil painting masterpiece.
The auctions held the past few days at Sotheby's and Christie's were events that placed contemporary art on the map right along their counterparts from the 19th century. Mark Rothko's "White Center (Yellow, Pink and Lavender on Rose)," a luminous abstract painting from 1950, sold for $72.8 million – more than three times the previous auction record for the artist – at Sotheby's major spring auction of contemporary art last Tuesday night.
The following night, the art world turned their attention to the auction floor at Christie's as their contemporary art sale broke all the records. It was by far the most successful sale of postwar and contemporary art ever. Most notably the evening's star painting – Andy Warhol's "Green Car Crash (Green Burning Car I)," from 1963 was auctioned off at a record $71.8 million, shattering the record books for a Warhol.
I think it's great that art is getting so much attention, that's what's important, not the dollars. Hopefully this will encourage parents to have their kids involved and entrenched in the arts. The benefits are far greater then you can imagine…