Creating a Winter Wonderland on a Budget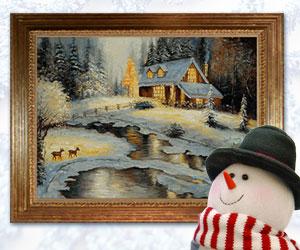 As the days get shorter and colder and the snow starts to fall, many people stop worrying about how their homes look from outside, instead concentrating on how it looks on the inside. However, decorating your space for such a festive season can very well be a very costly experience.
Regardless of whether you are decorating for Christmas, Hanukkah or Kwanzaa, it can also be fun and easy to do! All you need is to use some of the resources that you have in your disposal and you could be well on your way to form a holiday theme that will be remembered for the ages!
Pick a Color Scheme
Unify the home with a color scheme, regardless of how a room is decorated. Popular color schemes for the winter holiday season include:
Red & green
Pink & green
Blue & gold
Green & white
Red & white
Purple & blue
Blue & white
Silver & red
Use Neutral Colors for your Big Elements
If you're going shopping for wall paint or even new bits of artworks, consider neutral colors for both. Doing so makes changing to a new color scheme for spring or summer later on a lot simpler, as you will only need to swap around the accessories.
Dig Out your Old Christmas Cards
And then glue them onto mat board to make an excellent piece of holiday artwork that can be hung on the walls. You could either trim the board to a single card size or just attach dozens of cards to a bigger piece and line it up along the wall or place it on a table top.
Pillow Presents
Tie your throw pillows with a few different colored holiday ribbons, either round the middle once or in a bow just like you do with Christmas gifts, creating pillow presents!
Get Creative with Colorful Cranberries
One great idea is stick some fresh cranberry plants in large vases, adding a seasonal red splash of color to any room. If you don't have vases, you could use clear wine bottles instead. You can also use cranberries to fill candle trays as well, putting them on the dining room table, mantelpiece and voila!
Try Some Vintage Accessories
The thing to avoid is having your room looking just like a home décor store catalog, so to do this you should try to get hold of some vintage accessories. For instance, if you see lots of little cardboard houses appearing in the catalogs, maybe you could go out and get some Vintage Putz houses instead. You can search online or in thrift stores for vintage items, and even though it may take you a while, the stunning effect this twist has on things can make your room feel really special.
If you have any crafty skills at all, there are lots of vintage materials you can use for making Christmas décor:
Fabric
Buttons
Ornaments
Pom-poms trim & other kinds of edgings
Quilts
Chenille bedspreads
Old letters, postcards, newspaper ads
You can also create a modern twist by making new accessories by using bits from vintage supplies. Paint new designs onto glass ornaments or even crush them and use the powder as a cheap glass glitter replacement while quilts and bedspreads can be used to make holiday pillows, tree skirts and stockings. The possibilities are limitless!
Use Christmas Cards to Make a Swag
Another way to make last year's cards useful, simply hang them all over a long piece of string or twine, tacking the ends to the mantel's corners, or string it up along a long corridor or hallway.
Go Branch Hunting
Take a walk outside and see what branches and twigs you can find. Spray painted with gold or silver and placed in a vase, they make for very elegant seasonal décor.

Create a Focal Point
While your house might look festive already, with ornaments and other touches scattered around, nothing else quite carries the holiday spirit like a major Hanukkah, Kwanzaa or Christmas indoor display. The ideal spots for this would be banisters or mantels, but you could also set it up in a corner or on a table. The trick is to decorate the area really well, so follow these tips:
Swags
Bowls of ornaments
Group Christmas trees, Menorahs, angels and other festive items, mixing up different styles and sizes as you go
Use miniature houses, fake snow and toy people to make winter scenes.
Add a Plant
For the perfect finishing touch, add a plant into the room. Winter plants such as Poinsettias are the obvious choice, though you could also go for orchids or forced bulbs which look just as good!
You could spend a small fortune decorating this Christmas, and it will look swell, or you could make something that might take a bit more work, might not look as hip and trendy, but it will make for a very special occasion. By making decorating a family affair and involving everyone in the efforts makes the holidays extra special.