Cubism – broken up and re-assembled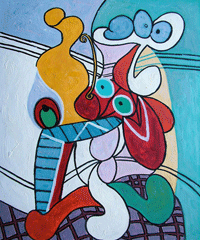 Cubism is part of the modern art movement; this special art form was started by two of the greatest artists of the twentieth century: Georges Braque and Pablo Picasso in the early 1920's. Both painters were heavily influenced by Paul Cezanne who is considered the catalyst for both artists to break the mold.
Cubism was first coined by an Art Critic; Louis Vauxelles who coined the term after critiquing a series of paintings done by Georges Braques called L'Estague. Pablo Picasso's first Cubist painting is Les Demoiselles d'Avignon, which was done in 1907.
Cubist oil paintings are broken up and re-assembled in an abstract form. The artist depicts the object from multiple viewpoints; often these viewpoints intersect causing the image to seem ambiguous.
Cubism affected not only the visible art world of paintings and sculpture but it was also depicted in other forms of art such as music and literature. Even the automobile industry took a lot of its early ideas from Cubism.
To learn more about Cubism and artists that are considered Cubist please checkout this great post by Breiana Cecil about the Modern Art Movement…