Decorating With Oil Paintings and your Musical Instruments
If you share a passion for both handmade oil paintings and a passion for music, you can combine the two to create a truly special interior design.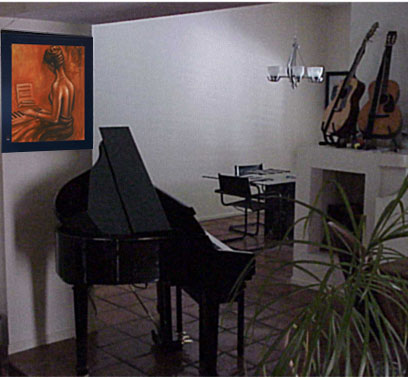 As someone who considers himself an art connoisseur and somewhat of a musician (I sing and play the saxophone though not at the same time…) I was truly impressed with a series of photos a client of mine sent sharing his interior décor of his Phoenix, Arizona home.
What I like the most about his décor is the simplicity, and smoothness of the design. This allows focusing our attention to the love affair among the artworks and the instruments.
This relationship goes deeper then the décor, it really sets the mood of the room and you can feel how the paintings provide inspiration to the music. Like my client, john, commented: "love her playing by my piano."
Thank you John for sharing your interior design with us, I truly love it! It's inspiration for the eyes and ears!