Art gone Green – Eco-Friendly Framing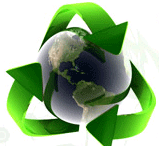 This week we celebrated Earth Day, and for sometime now everyone has been jumping on the "green wagon" in their efforts to be good "citizens of this world…"
In the art world, similar efforts are being made in order to take advantage of eco-friendly and sustainable products and projects. As artists become more conscious of environmental issues, more and more artistic endeavors will contain green references and themes. So getting the word out about the availability of green alternatives is especially fitting for this time of year.
One recent eco-friendly initiative has been undertaken by OverstockArt.com, which has started incorporating all-recycled frames in their framing selection to go along with their artworks. The frames are made from recycled moulding scraps and sawdust. They come in a variety of colors and shapes and are the perfect complement to a nature-setting landscape.
"It just makes the art we sell even more of a conversation piece…" said Dawn Kail, Assistant Manager at OverstockArt.com, "Now people can enjoy the beauty of nature on their wall and know that they took part in the important collective efforts of preventing deforestation."
We all have a personal and shared responsibility to make this world a better place. As artists, we can take part in this movement by using recycled products in our art and project the green theme in our creations. Together we can all make a difference.