American Realism – Edward Hopper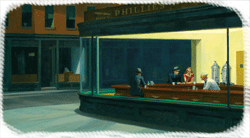 Edward Hopper's classic works captured the authenticity of urban and rural American life with emotions and beauty that have placed them among the lasting and popular images of the American 20th century landscape.
Edward Hopper was born July 22, 1882, 25 miles north of New York City. After a short stretch in the Commercial Art school in New York City, Hopper transferred to the New York School of Art, founded a few years back by the American Impressionist William Merritt Chase. Hopper continued to study illustration but also learned to paint from the most influential teachers of that time, including Chase, Robert Henri and Kenneth Hayes Miller.
Hopper was eager to keep learning the trade and traveled to Paris so he could get inspired by the Impressionist movement that took Paris by storm. He visited Europe three times from 1906 to 1910. After returning to the United States in 1910, Hopper never visited Europe again. He was set on finding his own way as an American artist, and the transition toward an individual style can be detected in the works that followed like Room in New York, painted in 1932.
Painting didn't come easy for Edward Hopper. Each canvas represented a long, painful conception spent in solitude. There were no sweeping brushstrokes from a fevered mind, no electrifying "Van Gogh like" stroke of genius. He painstakingly considered, added and took out ideas for months before he squeezed even a drop of oil onto his palette.
Despite his extensive consideration, Hopper created more than 800 known paintings, watercolors and prints. His best works are of purified yet eerie scenes in remote New England towns and Off-Broadway New York City scenes and architectures. His bleak yet warm interpretation of early 20th century American life, are melodramas submerged with vigor.
Hopper is arguably the best and most admired American realist of the 20th century, encapsulating a generation's memories so vividly that we can hardly look at a toppled house, or gas-station near a deserted road except through his eyes. His ability to relate to both rural America and to the wild urban scene of New York City in the same stroke of solitude and vitality unites us all under Hopper's palette.