Embrace the Art Around You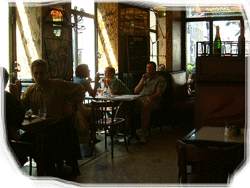 While busying yourself to complete your itinerary, do not neglect the art that surrounds you while on vacation. While eating your meals or walking along the narrow paths of a European city, their in the art around you lies the history, the passion of the people, and the true story of the place.
Another option is to look for up and coming artist on the walls of the cafés. While enjoying your "Café Ole" ask management, waiters and find out about interesting art you find on the wall. It is a great way to take back memories with you from your travels, and who knows, your small investment could grow into what could possibly be the beginning stages of your child's college fund.
Pablo Picasso's Old Guitarist (1903) a masterpiece from the artist's Blue Period depicts a man sitting cross-legged playing a guitar. Reminds me of art decor you will find in a small French or Spanish cafe while traveling. No laptop computer, no business meetings, no carpooling children to soccer games, simply enjoy yourself and take in the cafe decor.