Facebook App about Art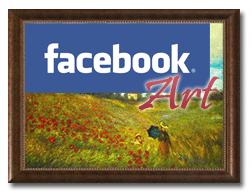 Facebook has been 2007's new kid on the block. With a growing rate of 3% each day it seems to be unstoppable…
People seem to be addicted to this social network phenomenon. What was once for college kids only, is now taking over the social networking realm throughout the world.
The big difference between Facebook and other social networking sites the likes of MySpace, Hi5 and Orkut are the applications. Anyone (with some development knowledge) can submit an application to Facebook.
The interaction of the users with these mini-apps creates a constant buzz in the network. This buzz promotes a viral affect that helps to spread this network even further.
ArtCorner.com has developed its own little mini-app. Appropriately, this app is about art! The My Art Gallery application allows you to browse through hundreds of famous oil paintings and choose a prominent work of art that you can display on your Facebook profile!
This application will allow you art lovers out there to add sophistication and style to your Facebook profiles!
Facebook has already added this app to their directory and we have over 200 users just from the first day!
So sign-up for Facebook if you haven't done so and see what the fuss is all about…