Famous Oil Paintings in the Movies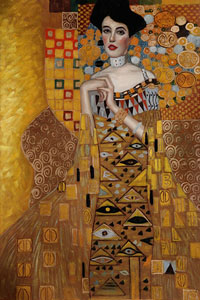 In the modern era, great oil painting masterpieces have become a status symbol. The combination of beauty, popularity and the multi-million dollar price tag, have made the great oil paintings of the world, luxurious items coveted by the rich and famous.
The prestige of art has transformed itself to the silver screen, as more and more oil paintings make their way to the walls of majestic scenes in motion pictures. Many stage producers that are trying to give the perception of class and a luxurious setting add high-end reproductions of famous paintings to the background to spice up the scene.
Never was this more evident than in the "Ocean's eleven" movie trilogy. The movie that is actually a remake of a famous rat-pack 1960's film, has (in my opinion) the coolest cast ever assembled in Hollywood, ever since the aforementioned rat-pack. With brilliant and exciting actors such as George Clooney, Matt Damon, Andy Garcia, Julia Roberts and Brad Pitt, the producers had to create a world of unsurpassed luxury and style.
I happened to watch both sequels last week, Ocean's Twelve and Thirteen, and I was astonished to see in the background walls of Terry Benedict's gleaming office, the ruthless Casino Mogul (played by Andy Garcia) the famous Klimt oil painting, Adele Bloch-Bauer I, the same painting that in reality is hanging in the Neue Galerie in New York City bought by cosmetics tycoon, Ronald Lauder for $135 Million two years ago and is considered by many as the Mona Lisa of New York City.
When I saw Ocean's Twelve and Adele sparkling of gold tones in the background, I thought that the producers of the film really did their home work and added the most expensive oil painting known to man to the background of this movie. However, in Ocean's Thirteen, Adele was still hanging in the background, but the painting got stripped down from all it's gold and had only silver tones…
In any case, do you know of any other films that have famous oil paintings hanging in the background? Please share and I would love to add some photos of this as well.