Francisco Goya – Father of Modernism and Last of the Old Masters
Francisco Jose de Goya y Lucientes (1746 – 1828) was a Spanish romantic painter and printmaker and is known as a father of Modernism and one of the last true "Old Masters." He knew more than one wife and mistress in his lifetime, and his passions were known to flare up unpredictably.
At age 14, Goya studied under the painter José Luzán. Goya relocated to Madrid where he studied with Anton Raphael Mengs, a painter who had strong favor with Spanish royalty. Goya's examinations were unsatisfactory, and his personality did not mesh with his master's. Goya attempted entrance at the Royal Academy of Fine Art in 1763 and 1766 but was denied both times.
Finally, when living in Rome, in 1771 he won second prize in a painting competition curated by the City of Parma. Later that year, he returned to Saragossa and rendered parts of the cupolas of the Basilica of the Pillar (including Adoration of the Name of God), a cycle of frescoes in the monastic church of the Charterhouse of Aula Dei, and the frescoes of the Sobradiel Palace. He studied with Francisco Bayeu y Subías where his work took on the delicate brush work and play of light for which he became famous. Goya developed his love for pattern, and the exploration of printmaking in his work never ended, though his painting seems more widely regarded than his printmaking.
By the age of forty, Goya became a painter to King Charles III, and, in 1789, the newly accessioned Charles IV promoted him to court painter. The year 1789 marked the decline of the French monarchy (with Charles IV unwilling to rescue his cousin Louis XVI from ruin). In 1793, war erupted between France and Spain. During the war time, Goya traveled to Cádiz in Andalusia with Sebastián Martínez y Pérez, a well-to-do businessman and art collector. Unfortunately in Cádiz, at the age of 46, Goya became ill and this resulted in him becoming deaf.
Goya continued to paint for the royals and those at court throughout his lifetime. When French forces invaded Spain in 1808, leading to the Peninsular War of 1808–1814, Goya is said to have remained neutral; though he did render portraits of French sympathizers and patrons. Yet, when the Spanish monarchy was fully secured in their reign, Goya had nothing to do with painting French portraits.
Goya bought a house, called Quinta del Sordo or "Deaf Man's House." His later paintings featured mythological references and were seen as darker in the subject matter. Around the age of 75, it is here that he completed his Black Paintings:
Using oil paints and working directly on the walls of his dining and sitting rooms, Goya created intense, haunting works with dark themes. The paintings were not commissioned and were not meant to leave his home. It is likely that the artist never intended the works for public exhibition: …these paintings are as close to being hermetically private as any that have ever been produced in the history of Western art.

Goya did not give titles to the paintings, or if he did, he never revealed those titles.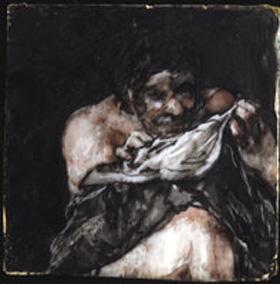 These works were rendered as murals on the walls of the house and were then transferred onto canvas in 1874. The themes are haunting and disturbing, a bleak look at humanity's dark side. Presently, they are collected in the Museo del Prado in Madrid.
Sickened by the growing political unease in Spain, Goya removed himself to Bordeaux in 1824, having claimed he was seeking medical advice. For one so challenged by tough relations between France and Spain in his earlier years, it is interesting that he spent his final years in Bordeaux and Paris.
Goya's works from his later years resemble more of the Grotesque and Expressionist movements that will arrive 50 years later by Edvard Munch and Lord Frederic Leighton. This is why many regard him both as an Old Master as well as a Father to Modernism, Goya's influence in the 1800's brought the art world to explorations and eventually the evolvement of the Modern art movement starting with the infamous Impressionists.