Frida Kahlo and the Oscar-Nominated Actresses of 2012
The Oscar-nominated films of 2012 have a very apparent feminist vibe. Strong independent women dream, fight for themselves, build their lives despite hardships, social oppression, misunderstanding, and gender and racial limitations. The suffering, struggling, and winning woman is "the collective superhero" of this movie season.
"The Girl with The Dragon Tattoo", "Chico & Rita", "Jane Eyre", "The Iron Lady", "The Help", "Albert Nobbs", "Bridesmaids", and even the beloved film of the season "The Artist" all celebrate strong resilient women.
This is a call for celebrating women artists for whom the challenges of building a career and finding acceptance and appreciation in the world of men were not much different from those faced by women trying to succeed in politics, writing, on stage, or fighting for women's rights.
The quintessence of a struggling, strong, talented woman is the Mexican painter Frida Kahlo, Suffering from early childhood from polio, she sustained serious injuries during a traffic incident at the age of 18. With almost every bone broken including her spinal column, and important inner organs injured, she still survived. Her whole life she suffered from pain, physical limitations, and an inability to carry pregnancies to term.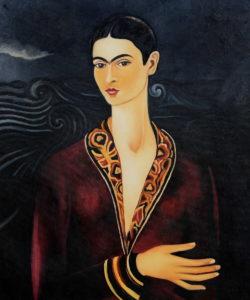 Instead of being the end of all her dreams and life itself, this was the beginning for Frida. She started painting, using mostly herself as the subject, saying that she was very lonely and knew herself well. One-third of her paintings are self-portraits, reflecting the physical and psychological torment of this incredible woman. She is a beautiful, fragile Renaissance lady in Self Portrait in a Velvet Dress, an ancient Greek goddess in an agony of pain caused by nails hammered into her gorgeous body, and a broken spine in The Broken Column. In 2002 her life was portrayed in the film Frida, where she was played by Selma Hayek. She became one of the most famous female arts of the Twentieth century and is recognized and collected by all the major museums all over the world.
Dying in 1954, she still remains one of the most celebrated symbols of women's strength and endurance. and who is our female hero, and even superhero this year? It seems the best candidate is Lisbeth Salander from The Girl with a Dragon Tattoo. Her traumatic history and tormented mind, instead of sending her spiraling into depression, bring her to a desire to help other women in crisis, therefore achieving transformation through suffering. Probably, the critics who have proclaimed her a new superhero are not far off, and what popular culture is looking for in a woman today is not natural strength but strength achieved through pain and struggle.