O'Keeffe – More than Flowers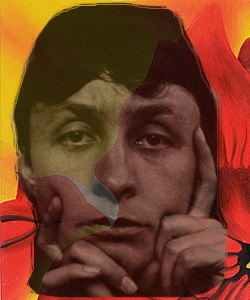 Georgia Totto O'Keeffe, like most artists, had a life that was to say at the very least interesting.
Georgia O'Keeffe was a poor Midwest farm girl who became the first woman allowed to have one-woman art shows by major museums. When creating her works she liked to undress, get down on her knees and sketch onto sheets of paper that lay on the floor. She would then hang her work around the room to evaluate each one. Georgia tore up every page because she thought the work mimicked other artists. At a young age she would start over and over again hoping to find her own style of imagery
O'Keeffe worked as a commercial artist for 2 years helping her family through her father's failed business before entering summer art classes where she excelled with natural talent. When she moved to Amarillo, Texas she became a drawing teacher for another 2 years wearing black tailored outfits and her hair pulled tightly back behind her. The townies found her odd from her clothes and the long walks she would take alone.
From Texas she moved to Columbia, South Carolina instructing art at a teachers college. Still struggling to find her personal style in abstract shapes O'Keeffe mailed these drawings to her friend Anita Pollitzer who showed them to Alfred Stieglitz. Stieglitz exhibited 10 of these drawings in his gallery without O'Keeffe's permission who confronted him and demanded that the exhibition be closed. The event would not be shut down and the viewing public was shocked over her sexually charged forms. Georgia would forever deny intentionally creating the sexually charged visuals that people saw in her work.
Georgia, young enough to be Stieglitz's daughter, became involved while he was still married to his wife. They married after his divorce became final and were together until his death. In addition to being together they would also see other people. Stieglitz would sleep around with other women and O'Keeffe would sleep around with both men and women. On one or more occasion Georgia and Alfred were lovers to the same woman.
Georgia found sexual comfort with same sex and mixed couples. One of her crushes was on Margery Latimer and Blanche Matthias. Matthias continuously asked Stieglitz to introduce O'Keeffe to his wife. The couples became great friends hanging out at all night parties.
Spite O'Keeffe's extra curricular activities she wished to settle down in peace and quiet, not fond of traveling, art exhibitions or dealing with selling her art. She shunned the spotlight unlike other artists, but she did like that other people admired her work.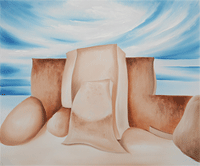 O'Keeffe would settle in New Mexico calling her home Ghost Ranch and enjoy the view of nature. O'Keeffe would continue to win many awards and show in galleries through the yeas that followed, but started to loose her eye site starting at age 84. This would not slow her creative speed however. She continued to work with the help of an assistant, Juan Hamilton, painting and working in clay.
Georgia received the Medal of Freedom from President Ford in 1977 and the National Medal of Arts from President Reagan in 1985. O'Keeffe died at age 98 leaving most of her estate to her assistant Juan causing a legal suit from her family. Hamilton eventually turned over more than 2/3 of his inheritance to the museums and institutions in her original will.