Google Art Project – For Art Lovers Everywhere!
Google has launched a new discovery tool, called Art Project www.googleartproject.com. Visitors can explore 17 of the world's most well-known museums. Not only can you walk the rooms of the galleries, but you can get close, EXTREMELY CLOSE, to the surface of some of the more famous paintings that hang on the walls. Fans of Van Gogh's "Sunflowers" for example can zoom in on the canvas and see every detail of this paintings brush strokes and texture. How you ask?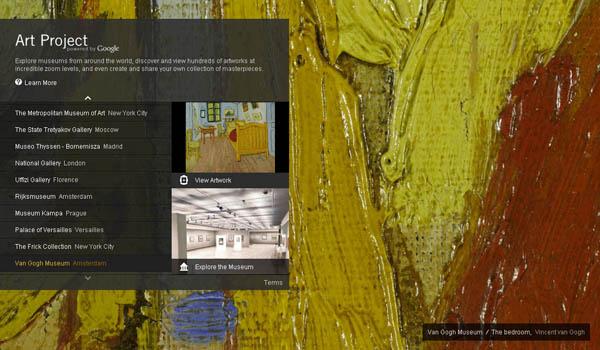 Google provided the same cameras that were mounted on cars to capture the street views of cities all over the USA for this project. Team members then pushed these cameras around each participating museum to make an interior map of each location. Then to add another diminution to a visitors experience samples of art from each of the 17 galleries were selected and photographed with one super high-resolution image. Each image containing around seven billion pixels, for those who do not know how large that is, it provides you the same close visual as if you were shrunk and standing on the surface of the canvas itself. IT'S REALLY COOL!
One down fall with the program is the navigation of the rooms. It seems a bit limited compared to actually being there and you find yourself outside the museum if you get too excited with your clicker while walking the rooms, but for those who can't travel to experience the work in person it is a close second.
Two big thumbs up for this ingenious idea for Art lovers everywhere!