Grouping Oil Paintings and hanging it over your staircase
Julie had a great question about hanging art over a staircase and hallway:
"Dear Brei,
I have two staircases which are at opposite ends of my hall. I have a Victorian house with rounded corners and 7 doors off the hallway. I have about 8 to 10 feet of solid wall on either side of the straightway. I have very high walls next to both staircases. After 19 years in the house our hall has been restored. Is there a book or pictures of the best way to hang my art up the stairs and along the hall? Any suggestions would be appreciated."
Well, a Victorian house sounds spectacular; I would love to see what you've done with the place.
For a big house with large staircases and hallway, the approach is to group several art pieces in a sequence that would be eye catching and intriguing.
Here is a step by step approach to set up your staircase with grouped artworks. I also put together a collage that I think would be a really good fit for a Victorian house décor.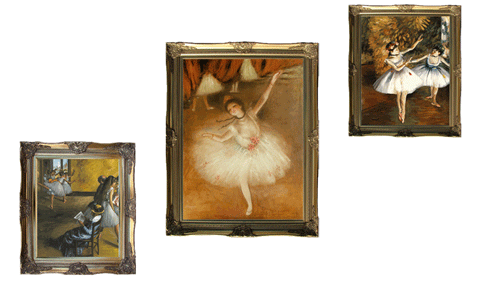 Steps:
It is important to measure the wall space where you want to hang the group of paintings.

Tip!

Spread newspapers on the floor to simulate the area of your walls.

Place the oil paintings on the newspapers. My recommendation is to balance larger paintings with several smaller ones.

Experiment with the positions of the paintings until you're satisfied with the arrangement. Be aware of spacing between the paintings.

Measure the distance of the wire from the top of the painting, so you can know where to place the hooks in the wall (mark the placement of the hook on the wall with a pencil.)

Hammer-in the hooks into the wall.

Hang the group of paintings. Use a level to make sure the paintings hang straight.
Try and hang the paintings at a height that everyone will be enjoy (just above eye level is perfect.)
For a Victorian home I would suggest either Renoir or Degas oil paintings: