Getting Red All Over…
Reds in home décor have been in style ever since the caveman glimpsed over at his bare cave, picked up some red tinted clay (that's red ochre to us homo 'décor' sapiens) and began coloring his dwelling.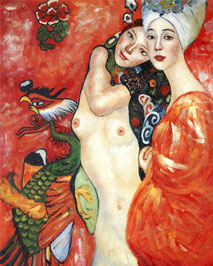 Red signifies force, passion, triumph and revolt. It literally gets your blood going. While it's not a color for the faint of heart, you'll be thrilled with the way red walls promote conversation (excellent for dining rooms) and adds elegance and style.
When it comes to accessories and furniture, a little red packs a powerful punch. You'd be surprised how complimentary it can be to the other colors and patterns in the room. Since red actually encourages hearty eating, it's an ideal color for your kitchen and dinning area.
A touch of Red is something that the great Session artist, Gustav Klimt, brought to the salons of Vienna. His emotions and passion are conveyed with every stroke of the red tinted brush. See how his reds come to life and shine light on its surroundings…
Get bold this year with your décor, either with exquisite artworks, or by adding a simple red table cloth in your kitchen. Invoke the passion of the regal kind!