Gustav Klimt The Kiss Tops the Chart in 2008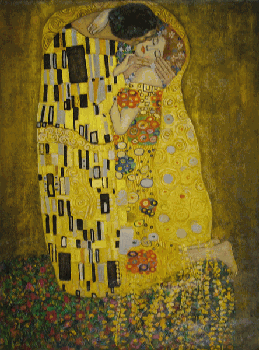 The popular online art gallery, OverstockArt.com, has officially released the annual "Top 10 Oil Paintings" list for 2008. After a complete domination of the top spot by the world-renowned Dutch master, Vincent Van Gogh, a relative newcomer has taken over. Gustav Klimt with his masterpiece – "The Kiss" blew everyone away with his unique style and colors.
Klimt has been the rising star of the Modern art world over the past few years, with notable paintings such as The Kiss and Adele Bloch-Bauer which in 2006, snatched the title of most expensive oil painting ever sold at auction, $135 Million.
Vincent Van Gogh might have relinquished his top spot to Klimt in the individual masterpiece category but is still the most popular artist in the world with both Starry Night and Café Terrace snatching the second and third spots respectively. His total sales numbers have left everyone well behind.
Other noted artists who made the list are Claude Monet, Salvador Dali, Pablo Picasso, and Pier Auguste Renoir.
The Top 10 oil paintings sold online according to OverstockArt.com are:
TOP SELLING OIL PAINTINGS
Most popular art on the planet:
courtesy of overstockArt.com
© 2008 All Rights Reserved