How to Choose a Frame for Your Oil Painting
Original oil paintings represent a form of artwork that's believed by many to have come into prominence midway through the 15th century. Vincent Van Gogh, Leonardo da Vinci and Claude Monet represent a few of the brilliant artists who have created oil painting masterpieces. Many things have been said about these famous artworks, but few speak about the framing of the art.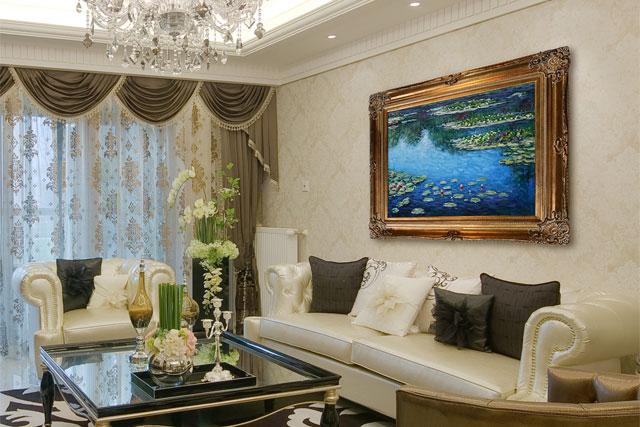 Although you may not own an oil painting by Monet or Van Gogh, how do you go about selecting a frame for your cherished oil painting? Use this short guide below to help you choose an ideal frame to display your oil masterpiece.
Step 1- Set a budget for your frame.
Perform a few preliminary internet searches to view an assortment of frames from online picture framing companies. Also, consult with a local picture framing store to check their prices. The materials and labor required to frame your painting can come with a hefty price tag. Set a dollar range you feel comfortable spending. If your painting is a standard size it will typically fit a ready-made frame. However, if it's an irregular size, it might require a custom-frame that costs more to fabricate. Larger, heavier frames often require a sturdy wire picture hanger for hanging.
Step 2- Complement your room's style and palette
Select a frame that will complement your room's decorating style and color palette. Black wooden frames are a timeless choice for any home decor and color scheme. They also provide a neutral, classic border that enhances almost any oil painting. Black metal or pewter frames work well with a more contemporary painting, while wooden or gold leaf frames convey a more traditional theme.
Step 3- Decide if you'd like glass to cover your oil painting.
The traditional school of thought regarding glass covering oil paintings is that it should never be done — oil paintings need to be able to "breathe" and glass would be a hindrance. However, the more modern approach is that a glazing, such as glass or an anti-reflective acrylic, helps to protect the oil painting against insects, dust, physical contact and harmful UV rays. In any case, if you choose glazing, you must insert a spacing mechanism to prevent direct contact of the artwork and the glass or acrylic. Personally, I think art does not belong behind glass…
Step 4- Get Personal
Whether to use a mat to complement your oil painting is a personal preference. Consider a neutral shade of white in lieu of trendy colors you may tire of quickly.
I hope this short guide helps someone out there find that perfect frame to complement their new oil painting. At overstockArt.com we offer free framing and free canvas stretching with every art & frame purchase.