How to choose the right color for your walls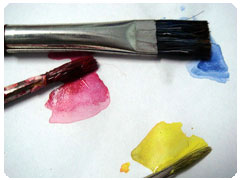 Looking to redecorate your home? Wondering which colors are the hippest, coolest most desirable colors you should choose for your walls?
I don't think there are any colors that aren't truly out-of-style, except for Harvest Gold and Avocado Green, but even those could work depending on the circumstances/budget.
My suggestion is to go to your local paint store. Pick up color cards that strike your fancy. Lay them on a table where you can see them frequently and at different angles and let them sit there a few days.
You will get a sense of what works for you and what doesn't. Trash the ones that don't. When you've got your choices narrowed down, buy a quart of each color (some places have sample sizes of paints for a lot less money).
Paint your main color to a board in a large section. Add small swatches of other colors/fabrics onto the same board. Do this for each "main" color you are thinking about using. Lean them up against the wall (but not next to each other) in the room they will go. Leave for a few days to get the "feel".
This type of thing can be modified of course, but it also allows you to try different things. You can try "masculine" with grays, browns, blacks, with maybe an orange or aqua accent. You can go funky with "hot" colors.
Remember to try on and match the color paints to your wall decor, including artworks, oil paintings and tapestries.
Good luck, and let me know if this was helpful.