The Impressionist Dome Home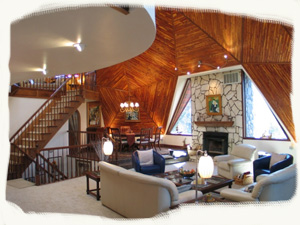 The glamorous Hollywood stars are continuously re-inventing the definition of style… trying to out-ritz the rest of the stars is not an easy task.
One creative visionary has re-defined the meaning of a Hollywood getaway by completely renovating and redesigning a massive majestic abode – a wooden dome home in the heart of Southern California's retreat – Big Bear.
The home is an architectural marvel and located in one of the most beautiful parts of the country.
The beauty of the exterior is surpassed by an exquisite decorative interior, spot lights illuminate the central living room shinning light on over a dozen hand painted Impressionist oil paintings – reproductions of Vincent Van Gogh, Claude Monet, Gustav Klimt, Pier August Renoir, Pablo Picasso and many more…
The Impressionist Dome Home is a one of a kind retreat that the wealthy and the famous of La La Land will be standing in line for many years to come…
See more of the Dome Home: http://www.bigbeardomehome.com/