It's Rabbit Season! It's Duck Season! It's Tait Season!
To be honest, Arthur Fitzwilliam Tait does not seem too fond of rabbits or ducks in his paintings. He does dot the landscape with deer, pheasants, cattle, and hunting dogs. So, in the epic debate of whether it's rabbit season or duck season… Tait creates his own season on canvas, leaving Bugs Bunny and Daffy Duck to their own devices.
We all know that Elmer Fudd really could have used a few of the hunting dogs depicted in Tait's Going Out: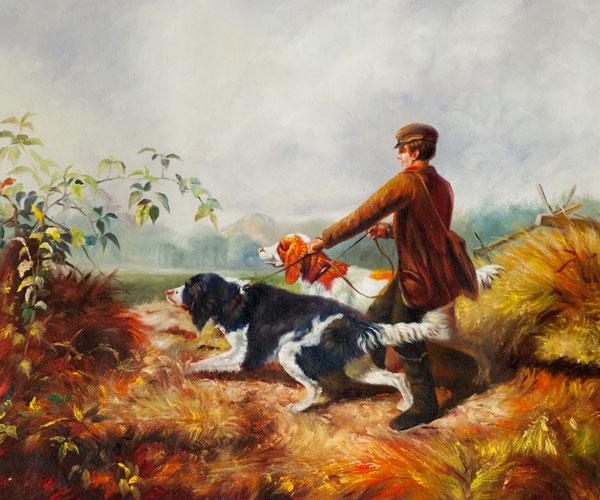 The Life of Arthur Fitzwilliam Tait
Arthur Fitzwilliam Tait (1819-1905) is a nineteenth century painter known for his depiction of the American frontier and wildlife. When his merchant father went bankrupt, Tait was sent to live with relatives in Lancaster, England, where he developed his affinity for animals. At the age of twelve in the city of Manchester, Tait began to teach himself to paint and was associated with Agnew & Zanetti Repository of Art; through this, his lithography works went on display, and Tait was beginning to develop a career until he left in 1838 to marry.
The newly married man attended a George Catlin exhibition, featuring Indian portraits and artifacts, in Paris in the 1840s where he learned more about life in the Americas. In 1850, Tait  immigrated to New York and established a small painting camp in the Adirondack Mountains. Here, he would render barnyard animals, wild deer, hunters and their dogs, and his majestic landscapes.
Tait's Romanticism
Though Tait established himself and his work in the heart of New York City society, he frequented the Adirondack Mountains to work, and it is this environment that allowed him to create beautiful and popular Romantic renderings of the wild frontier. Unlike many artists who are not appreciated or recognized in the time period in which they create, Tait was a greatly admired and celebrated artist in his time, particularly during the pre-Civil War era. Today, his work is celebrated as much as the work of George Caitlin, that fateful exhibition which propelled him forward to the Americas.
Unlike his father, Tait maintained a relatively steady financial income throughout his life as a painter. His paintings were of a medium size and moderately priced. His clientele continued until his death at the age of eighty-five.
Today Arthur Fitzwilliam Tait's work can be easily imagined inside a hunter's cabin or a prominent CEO's office. Yet, his work has a quality about it that all can appreciate. His affinity for animal life and the beauty of the Adirondack Mountains is very present within each painting. Even the Looney Tunes gang would stop their debate of whether "It's Duck Season!" or "No, it's Rabbit Season!" to enjoy Tait's timeless talent.