Maurice Sendak, Marc Chagall and a Wild Imagination
The wild rumpus got a little less so. On Tuesday morning, May 8, children's author and illustrator Maurice Sendak, 83, passed to where the wild things are.
A literary legend for five decades, Sendak was the author,  illustrator and collaborator of over 60 books and winner of a long, large list of awards including the 1964 Caldecott Medal (for the 1963 "Where The Wild Things Are"), the Hans Christian Anderson International Medal in 1970 for his body of children's books, the American Book Award for "Outside Over There" in 1982, the Laura Ingalls Wilder Award for his contributions to children's literature in 1983, and honored with the National Medal of Arts in 1996 by the President of the United States, Bill Clinton.
His best-known books, "Where The Wild Things Are" (1963) and "In The Night Kitchen" (1970) inspired generations of children to read, and dream, and imagine. Met with both acclaim and controversy, Sendak was a pioneer in children's literature, breaking ground in the way in which children's tales are told. Combining clever, deceptively simple narrative with striking and sometimes scary illustrations, his works were conceived of and executed as a total experience.
Most recently, Sendak appeared on the Stephen Colbert show, where he engaged in hilarious and witty repartee with Colbert. Out of that interview at which he pitched Mr. Sendak a book idea as a joke, Colbert released his own children's book (for adults) entitled, "I Am A Pole (And So Can You!)."  Endorsed by Sendak on the spot, Colbert's book sports the Sendak quote on the cover, "The sad thing is … I like it!" In a bittersweet turn, the book was released on May 8 – the day of Mr. Sendak's death.
Sendak's latest book, "Bumble-Ardy," (about an orphaned pig) was released in September (2011) by HarperCollins and was the first in three decades for which he both wrote and illustrated.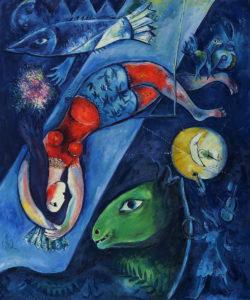 Luminous and fantastical, delightful and disturbing, Sendak's impact on children's literature is immeasurable. Often dark and fraught with danger, Sendak illuminated the secret worlds which exist behind a child's eyes, drawing it out of the shadows to show that, by shining a light on that which scares us the most, whatever it is a little less frightening.
Sendak's illustrations were an in-between state, caught betwixt waking and dreams – much like the surreal, dream-like watercolor paintings of Marc Chagall and Henri Matisse, as well as the work of Pablo Picasso. In fact, if one studies Sendak's illustrations in "Where The Wild Things Are," "In The Night Kitchen," and "Outside Over There," shades of Chagall's works (most especially) can be seen: Flowers and Feathers, The Cow with Parasol, Wedding Candles and Bonjour Paris are some of the most evocative and haunting, feeding Sendak's style.
In the author's own words, from "Where The Wild Things Are":
"But the wild things cried, "Oh please don't go — we'll eat you up — we love you so!"
And Max said, "No!"
Rest In Peace Mr. Sendak. Your wild imagination lives on in the eternal generations of children for whom you wrote.