Monet Water Lily Sold for $80 Million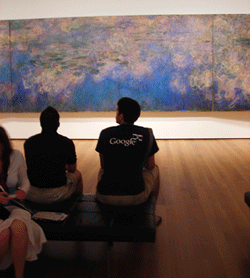 Earlier this week a Claude Monet water lily painting was sold for more than $80 million, breaking the record for the famous French artist – the father of impressionism.
The painting is called "Water Lily Pond," which was part of a four-work collection of water lily paintings that Monet created during the latter part of his lifetime.
The four large-scale paintings of Monet's water lily garden were created in 1919. The paintings are scattered around the world, the most famous of which is the famous large panels exhibited in New York City at the Metropolitan Museum of Art.
Monet created his Water Lilly garden in Giverny, France by artificially re-routing a stream. Monet then filled the pond with different hybrids of water lilies in an effort to get as many different colors of flowers in the pond. This turned the pond into Monet's most favorite motif during the last years of his life. The water lily garden in Giverny is still a landmark for art lovers around the world.
After an exciting bidding war, the painting finally sold to an anonymous collector for 41 million pounds equivalent to $80.5 million, setting a new record price for Monet paintings in auction.
The painting was originally purchased in 1971 at a New York auction for $320,000. Not a bad return…