Munch painting theft saga coming to a close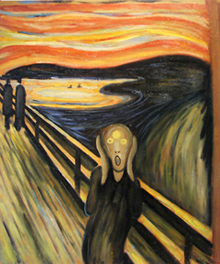 Three men who conspired to pinch Edvard Munch's "The Scream" and "Madonna" were sentenced to nine year in prison for their roles in the grand theft. Both paintings were recovered, but suffered damaged.
Two years after the theft, police recovered the paintings, which were cut and pierced. Even broken glass found itself into the canvas as the frames were broken during the heist.
There are four separate editions of "The Scream," Munch's best-known work, depicting a frail figure apparently earshot by a scream. The image has become an icon of modern human anxiety.
The three convicted felons were also sentenced to pay a total of $262 million in compensation to the city of Oslo, which owns the paintings.