New revelations on Vincent van Gogh's death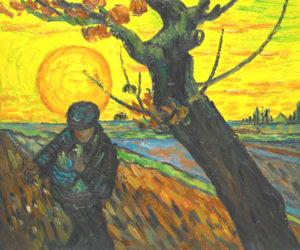 His paintings are among the most well-known in the world, just like the story of his life and death: Vincent van Gogh was a troubled genius who killed himself. But now the authors of a biography say their exhaustive investigation strongly indicates he may not have taken his own life. It's a story that could rewrite art history, as Morley Safer reports on "60 Minutes".
Steve Naifeh and Greg Smith, Pulitzer prize-winning authors, began their research into the life of van Gogh 10 years ago. They soon began to question the widely accepted story of van Gogh's suicide. The idea that the painter had taken his own life by shooting himself in the abdomen with a borrowed pistol and then made his way back to his room seemed unlikely.
Among the issues addressed by the authors: Could van Gogh have inflicted a painful wound and still walked over a mile on difficult terrain? Who would have given the painter, known to have spent time in an insane asylum, a gun in the first place? Was the gloomy canvas inhabited by crows, seen by many to be harbingers of death, really the last work he painted, as the classic 1950s film "Lust For Life" ominously depicted?
Safer's story, illustrated with the vibrant work of the painter, follows Naifeh and Smith as they make a compelling argument for what they say is a much more likely cause of death. The authors point to unknown suspects and new evidence, while also clarifying other accepted details of the van Gogh legend.