overstockArt.com Introduces New Ceramic Art Tiles Line
The online art gallery, overstockArt.com, announced today the final phase of the launch of its new line of hand carved and hand painted ceramic tiles. The final phase of the product line launch introduces a line of decorative inlay tiles. It launched in May with art trivet tiles.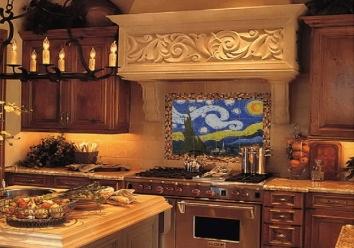 The new line is a first for the company, long recognized as the go-to source on the web for purchasing art reproduction oil paintings. "We are excited to diversify our home décor offerings with the new ceramic tile line," said David Sasson, overstockArt.com's president and CEO. "The magnificence of fine art masterpieces translates beautifully to this medium and provides our customers with a new and unique way to display art in their homes in a functional form."
The inlay tiles create a mural image in a set of 12 tiles. They can be used in a variety of places including, baths, backsplashes, fire places, and walls. The trivet tiles can be used as wall décor or as decorative trivets. Like the paintings available on overstockArt.com, the ceramic tiles focus on reproductions of great masters such as Gustav Klimt, Claude Monet, Georgia O'Keeffe, Pablo Picasso, Vincent van Gogh, and more.
A select number of tiles were included in both phases of the launch. Additional art trivet tiles and inlay tiles will become available in the weeks and months ahead. To view the new ceramic tile line, visit the new Ceramic Art Tile Gallery.