overstockArt.com Releases New Interactive Summer Catalog
overstockArt.com, the online retailer of hand-crafted art and archival quality frames, has issued an updated version of their catalog for 2016's summer season. The online catalog showcases selections from their impressive stock of handmade fine art oil painting reproductions. In addition to keeping up with the latest trends in art and décor, this new edition continues to enhance and simplify the shopping experience for home and professional decorators.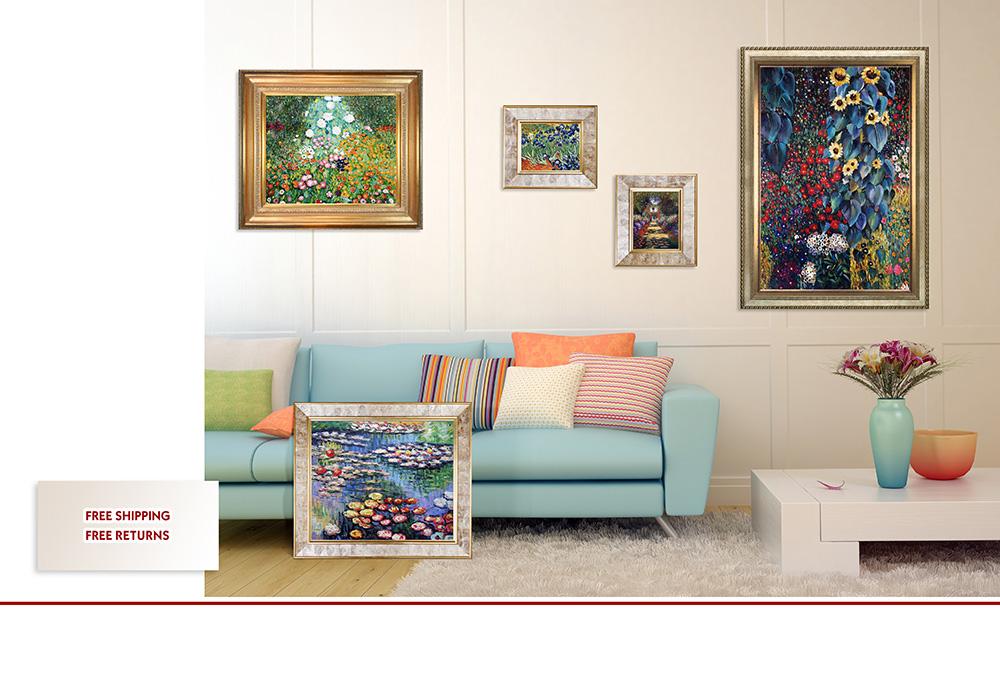 The key to overstockArt.com's 2016 Summer Catalog is its easy-to-use and flexible digital platform which makes browsing fast and fun. The digital flip-book engages users by giving them the power to closely examine individual artworks and frames as well as selectively share their favorites. It's integrated with a real-time feed of descriptions, background, pricing, and options for every piece. Vibrant high-definition photographs seem to pop off the screen, whether viewed on a computer or mobile device. When something catches a user's interest, a click or a tap can transport them directly to the full product page for more information and a seamless checkout process.
Hundreds of the world's best known and most beloved artworks have been curated by overstockArt.com's staff of art lovers from its selection of over 10,000 handmade reproductions. Its intuitive division into Art Collections provides choices by style, subject, and more including many from today's finest contemporary artists in the 'Artist Become' collection. Also on display is a number of their museum-grade custom framing options which are assembled by hand right here in the USA.
overstockArt.com's exclusive Luxury Line steals the show with its unique interpretations of classic masterpieces. This line of expertly made artwork features gold, silver, and bronze metallic leafing, creating a shimmering appearance that has quickly become a customer favorite. Whether you're interested in making your Monet shine or elevating a Klimt to its authentically palatial status, the Luxury Line adds an elegant accent to their lovingly crafted masterworks.
The overstockArt.com 2016 Summer Art Catalog can be viewed online or offline:
1. Access the overstockArt.com 2016 Summer Art Catalog on your connected device at http://www.overstockart.com/get-catalog.
2. Download the PDF version for browsing anytime, anywhere: https://view.publitas.com/15933/156239/pdfs/c2d8f817723fb307ebc34c0598a322842d0da4c2.pdf
"Our mission at overstockArt.com is to make shopping for art into a rich and fun experience, we achieve this by removing all the doubts from the buying process and enriching shoppers with a great shopping experience and ultimately a magnificent piece of art for their space," said David Sasson, CEO of overstockArt.com. "The new catalog is organized via subjects and collections. It holds many of our newest arrivals along with exclusive collections and even our 'Turn Photos into Hand Painted Art' service."
overstockArt.com had previously released a print catalog once annually, though the online retailer now updates their catalog four times throughout each year. "Using a digital catalog gives us an opportunity to create more seasonal versions of our catalog without the expense and waste of creating print catalogs," stated Sasson. "It also allows our catalogs to be more current and up-to-date with our selection, which allows our customers to see the new products as soon as we start carrying them."
Additionally, overstockArt.com has invested heavily in mobile apps to aid customers in decorating on-the-go and visualizing the art on their wall prior to purchase. overstockArt.com's apps allow art lovers to easily browse hundreds of oil paintings in the palm of their hand and view each selection in their own space. The app is available for free on iTunes and Google Play.