OverstockArt.com Named to Décor's Top 100 List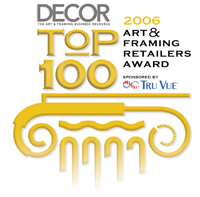 OverstockArt.com is among the winners of the prestigious Décor Top 100 Art & Framing Retailers Award.
The winners were officially announced on Friday September 8th at Décor's International Art Expo in Atlanta, Georgia, and will be featured in the October 2006 issue of Décor Magazine. David Sasson, owner of the online oil painting and framing gallery, was on hand at the Decor Expo in Atlanta when the results were announced. "This is OverstockArt.com's first entry to the Décor 100 award and we are excited to be here," said Sasson.
OverstockArt.com's entry was aimed at the category "Technology Implementation Award". Gabe Kiley of Décor said, "This year's contestants revealed great passion with an increase in efficiency and technology advancements. Obviously the internet has had an impact on how consumers shop for wall décor in the US." Mr. Kiley went on to say, "The retailer in the Top 100 list impressed our panel of judges, whether it was for design, technology, or marketing. In each of these retailers a certain area of their business stood out for us to single them out among their peers."
David Sasson believed his online gallery and frame shop available at http://www.overstockart.com was exceptional, but the Top 100 award confirms it. The expanding online store of handmade oil paintings and frames is a well designed online art gallery displaying handmade oil paintings at half the price of local art galleries. The online business model has a lot of advantages that Mr. Sasson hopes will revolutionize the way people shop for art. "Our store is providing an interesting shopping experience for art lovers. Utilizing our online software helps home and office decorators match the oil painting that they want with the perfect frame for a very unique wall décor piece. They can then match the framed painting to their wall color and see if it fits the color scheme." Sasson said, "I think that our unique system coupled with our high quality handmade oil paintings and unparallel customer service makes our company appealing to our growing list of clients and what sets us apart from the other contestants."
While the gallery is located in Wichita, Kansas, OverstockArt.com's clientele are from all over the US. The gallery is setup so visitors can browse by artist, subject, style and size. The ease of navigation helps consumers explore the gallery and find the art that fits their taste.
OverstockArt.com is becoming increasingly known for its large selection, distinctive handmade oil paintings and superior service. "Many of our customers are coming back to shop again with us," said Sasson. "That is a testament for our great relationship with our clients and their appreciation for our art."
Mr. Sasson hopes that the now confirmed best art and frame shop online will keep growing and offer more selection and resources to its art-loving customers.
OverstockArt is located on the web at http://www.overstockart.com.