Paul Klee: Obsession with Color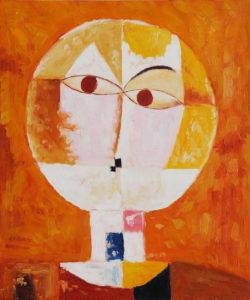 Paul Klee began a career as a musician, but his soul yearned to let out the painter hiding within. Paul Klee is an artist that did not neglect his artistic calling, and worked hard for many years to find his style.
Paul Klees's path to artistic recognition was quite a difficult one. His parents prepared him to become an accomplished violinist. Some people made connections between Klee's musicality and his painting. In fact, as a musician Klee worked reproductively and traditionally, but as a painter he was radical. Legend has it that his grandmother Frick introduced him to pencils and paints. However, he had to pass the age of 25 years old in order to acquire his own style. Until then he maintained himself through music, which was the only job he knew best at that time.
"I only liked what I was not allowed to do, drawing and writing," wrote Klee in his diaries. At first, his parents were skeptical about his new passion, that of a painter. Moreover, because of uncertainty, Klee joined the art field only by drawing, painting was quite unfamiliar to him. For this reason, he studied assiduously colors and their power over the viewer. Moreover, his lack of exprience contributed to the fact that he was refused to enter the Munich Academy in 1888. The director at the time advised him to get more practice in drawing figures at a private school. This was his next plan to achieve his goal. However, in order to do that he had to overcome the considerable opposition from his parents. In the end, he decided to attend the Knirr's private school.
During his three years in Munich, he became professiant in the drawing art field and had also taken an interest in the techniques of etching. However, he had no skill in painting. What helped him most in his career was his ability to laern on his own, and studying the Old Masters.
By 1910 he hadn't had any great success. One or two pictures had been displayed in big exhibitions, and one exhibition in Switzerland with fifty-six pictures. At that moment, Klee could not sustain himself, financially speaking, only by painting. For this reason, he began to study the impressionist's colors. Tones are those which took his attention. The representation of light helped him in the attempts of understanding the connection between light and darkness.
This resulted in him developing his black watercolors. After working at these problems, he started spending more time on oil painting. He wanted to learn a natural way in terms of colors, though he often turned back to drawing. Moreover, his aim was not the representation of outer reality, but for imagination to give rise to the emergence of the picture from the first laser of the paint applied on canvas. As Klee said: "Art does not reproduce the visible, but makes visibile." The artist was also inspired in his art by the customs he had in his childhood. When he was nine, he would trace with his fingers the patterns on the marble tables in his uncle's restaurant until he could recognize shapes and figures. The 1911 earned Klee many acquaintances in the field, including the artist Wassily Kandinsky.
In the same year, after an exhibition with the modern artists, in which he didn't participate, Klee expressed his support to 'primitive art': "There are indeed very early form of art around more likely to be found in ethnological museums and at home in the nursery, for children can paint this as well. The more helpless these children are, the more educative their art is, for even at this stage, there is corruption – when children start to absorb, or even imitate, developed works of art." Thus, supporting the idea that a true artist is the one who settles on canvas what he feels in his soul and not after he succumbs to the ideas proposed by artists past and that the pure art is that of children, who are not yet corrupted by studying art.
În 1912, Klee found his way to the abstract paining, and started studying the problem of simultaneous contrast. He was also inspirited by Robert Delaunay's essay "On Light." However, at this time, Klee failed in creating what he thought naturally and spontaneously were in art. We may say that although in 1912, he already had several exhibitions, Klee was still not proud of the level that had he been achieved, and he was his own worst critic. Only in 1914, Klee could reveal on canvas what he already had in his mind, but could not explain through colors.
The trip to Tunisia was a turning point, and the moment when Klee could express freely as he wanted. It was as if he had a picture image in his mind but wouldn't be unable to spread it on canvas. He himself felt this to be so when he wrote in his diary: "Color possesses me. It will always possess me. This is the meaning of this happy hour: color and I are one. I am a painter." The painting "Mazzaro" was the success of his struggles that he was talking about. Now at last, he was convinced that his experiments with colors had led the way to true art form he always wanted to create.