Picasso and Dora Maar – Love and War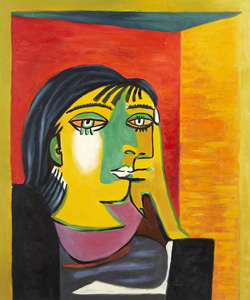 Between the years 1935 and 1945 Pablo Picasso and his lover and muse of those years, Dora Maar had an amazing love affair that was documented in both oil paint and photography.
The relationship started shortly before the outbreak of the Spanish Civil War in 1936 and lasted throughout the Second World War. Dora Maar was a talented photographer and was at the center of bohemian life in Paris.
The two lovers inspired one another intellectually and artistically throughout their time together. As their connection carried on, Picasso celebrated his love for Dora Maar in sensuous oil paintings. In turn, Dora Maar commemorated the relationship in a series of photographs.