Was Picasso's Trusty Friend also his Muse?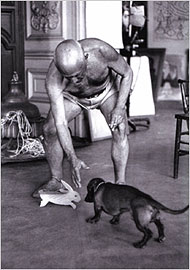 The great masters of the modern era made it a point to include faces of fellow artists, siblings and patrons in some of their large scaled oil paintings. Pablo Picasso paid similar homage to a more unusual friend: a little Dachshund called Lump.
Lump appears in at least 15 Picasso paintings. He has been the top best selling animal in Modern Art history. His place in modern art history is a very important one, being the Muse of Picasso, one of the most admired artists of the Twentieth Century.
Now, thanks to the devotion of its former owner, the veteran American photographer David Douglas Duncan, a new book, "Picasso and Lump: A Dachshund's Odyssey" has been published depicting the events and images of the Top Dog of the Picasso Villa.
By showing Picasso in the intimacy of his own home, Mr. Duncan seeks to portray him as an affectionate family man with a sentimental attachment to a funny little dog. Picasso was once quoted, 'Lump, he's not a dog, he's not a little man, he's somebody else.'
Even though Picasso had Lump for only 6 years, their lives were intertwined as both died one week apart in 1973.