Popular and Famous Portraits
The Mona Lisa by Devinci, Bride and Groom by Modigliani, A Boy with Pipe by Picasso, Portrait of Dr. Gachet by Van Gogh, and Madame Cezanne by who else then Cezanne, are considered some of the most famous oil portraits ever done.
Leonardo Da Vinci's Mona Lisa is probably the most famous. The model is said to have been a young woman from Florence who married the local celebrity Francesco del Giocondo in 1495. It was painted between 1503 and 1505. Da Vinci himself was so enamored of his Mona Lisa that he carried the painting with him until it was sold to King Francois I. Mona Lisa was long known as a Renaissance portrait prototype. The painting was stolen from the Louvre, where it hung in the Salon Carre. It was found two years later in a Florence hotel. This painting is still a cause for debate and interest in the art and history realms, the experts are split about the enigmatic true origin of the Mona Lisa.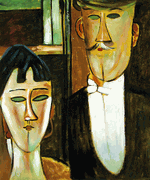 Bride and Groom, also known as The Newlyweds, is another much sought-after portrait painting. It is the 1915 work of the master Amedeo Modigliani.
Pablo Picasso's Boy with Pipe is probably his most famous portrait and one that holds the world record for Sotheby auction sale prices – $104,168,000. Boy with Pipe was painted in Montmarte when Picasso was 24. The subject is a local boy who visited the painter often in his studio.
Vincent Van Gogh's Portrait of Dr. Gachet has not been viewed by the public since its sale in 1990 at Christie's auction house in New York City. For a whopping $75 million Portrait of Dr. Gachet was bought by a Japanese art dealer for his Japanese industrialist client. The famous Dr. Gachet was Van Gogh's physician at the time of his death. Self Portrait 1889 was another noteworthy Van Gogh portrait.
Madame Cezanne was Paul Cezanne's cubism-style portrait of his beloved wife Hortense.