Portrait of Adele Bloch-Bauer: The Klimt Femme-Fatale
"Oh look, another portrait of an upper-class lady decked in Klimt's weird gold style," you might think… Look again. Completed in 1907, the portrait was commissioned by Adele's husband Ferdinand Bloch-Bauer.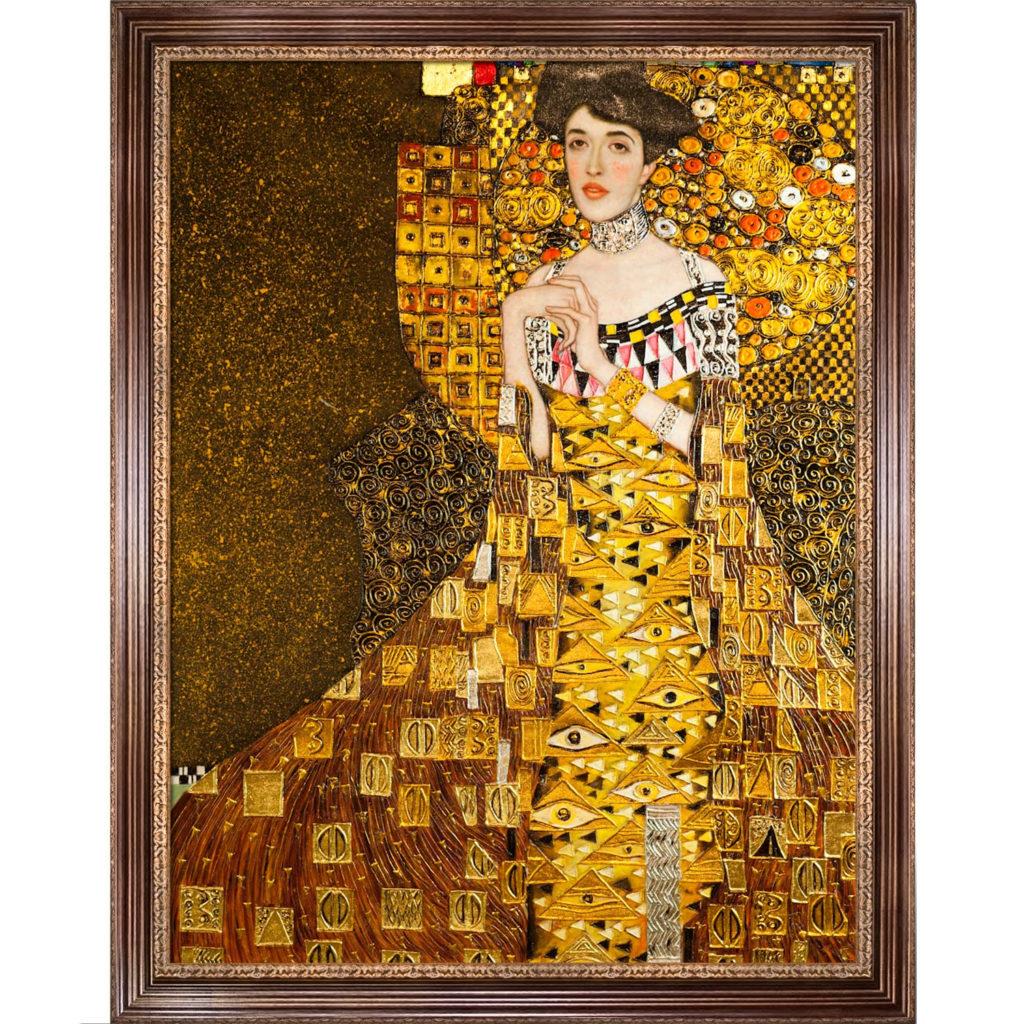 Born 1881 to a wealthy  Jewish banking family, Adele was far from a simpering lady awaiting further status in a marriage proposal; she was characterized as high-strung and outspoken–who when denied entry into university because of her gender–learned three languages and classic literature by her own devices.  When she turned eighteen, she and Fredinand were married. Adele dies at age forty-three of meningitis and suffers health concerns throughout her life but was truly a lady who refused to be defined by illness and the constraints of her time period.
Rumors of An Affair
Rumors abound as to a lover affair between Gustav Klimt and the model of the portrait Adele Bloch-Bauer. Though it is said she only communicated this to her physician and personal maid. It is rumored, also, that she is the inspiration of Klimt's most erotic painting–Judith I. Klimt's detail of the face on this mentioned painting strongly resembles that of Adele's portrait here, which scholars have also made note of.
Klimt did have many affairs throughout his life, refusing the attachment of marriage as a contract. He is called the Painter of Women:
The exhibition "Klimt und die Frauen" (Klimt – Painter of Women) at the Österreichische Galerie Belvedere in Vienna is a huge success with over 120,000 visitors until today. The museum hosts the world's largest collection of Klimt paintings, but the last special exhibition of the painter's work at the Belvedere dates back to his 100th birthday in 1962. In the mid-1980s, at the exhibition "Dream and Reality" at the Wiener Künstlerhaus, Klimt's paintings were for the last time presented in a special exhibition to the public in Vienna. The permanent collection was of course always accessible and the Belvedere generously lent its Klimt's to important exhibitions around the world, such as in Zurich in 1992, in Tokyo in 1996 and in Milan in 1999. "Klimt und die Frauen" presents the first virtually complete overview of Klimt's female portraits.

At the center of the exhibition is the painter's probably most important and best-known work group, the portraits of women. It is complemented by allegoric paintings such [as] Judith I and II, The Kiss or Water Snake.

In 1840, German poet Friedrich Hebbel reinterpreted the myth: Judith was still a widow, but a virgin because her husband had been impotent. Sexually frustrated, she was attracted by the Assyrian Holofernes and killed him as a personal vengeance. In Sigmund Freud's interpretation of 1917, Judith agreed with Hebbel: Judith killed the Assyrian because he had taken her virginity. Cutting of his head was, according to Freud, a symbol for Holofernes' castration. According to Daniela Hammer – the information on Judith comes from her catalogue essay – Klimt's portrait falls in the same category: She is a strong and independent woman who challenges male dominance, the femme fatale symbolizes an eternal truth.  [source]
Gustav Klimt renders Adele with fragility and an air of seduction. Aligned with the Egyptian eye symbols, the viewer's eye follows this column straight to her face. Is she Klimt's radiant sun, his shining light and inspiration? "Though he had numerous affairs with his models he kept his affairs discreet and he avoided personal scandal despite fathering at least 14 children," states writer Charles Moffat.
Journey of the Portrait Home
The portrait was seized by the Nazis during World War II but reclaimed by Adele's heirs when ownership of the work was contested by various original owners in the Austrian state. Ruling of ownership was given to family members of the Bouch-Bauer line, thus Maria Altman. The portrait had been seized after Austria had been taken by the Nazi's, Adele had passed on and her husband had fled to Switzerland.  In his 1945 last will and testament, Ferdinand Bouch-Bauer designates his nieces and nephews, including Maria Altmann, as the inheritors of his estate. Altmann passed shortly before her 95th birthday in 2011, but the legacy of this work and the Bouch-Bauer line is documented in films such as Stealing Klimt (2007) and Adele's Wish (2008 – by filmmaker Terrence Turner, husband of Altmann's great-niece).