Record broken by the Gustav Klimt Portrait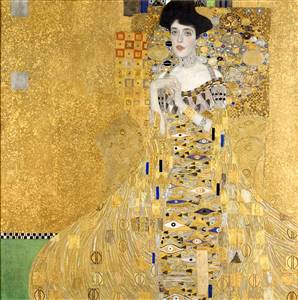 Back in April, I wrote about the miraculous story of an exquisite Gustav Klimt portrait of Adele Bloch-Bauer oil painting. Read the post…
After it was captured by the Nazis and a long grueling legal battle with the Austrian government the painting finally arrived at the doorstep of its rightful owner, Adele Bloch-Bauer's niece, 90-year-old Maria Altmann.
Back in April, the estimated value of the portrait was around a whapping 120 Million dollars.
Well, the dazzling gold-flecked 1907 portrait by Gustav Klimt was placed on auction this past weekend.
The painting was purchased for the Neue Galerie in Manhattan by the cosmetics giant Ronald S. Lauder for $135 million, the highest sum ever paid for a painting.
Eclipsing the $104.1 million paid for Picasso's 1905 "Boy with a Pipe" in an auction at Sotheby's in 2004.
According to the New York Times, Mr. Lauder said after they buy: "This is our Mona Lisa." Mr. Lauder is the founder of the five-year-old Neue Galerie, a tiny museum devoted entirely to the German and Austrian fine and decorative arts.
So, if you want to see the most expensive artwork ever bought stop by on the corner of Fifth Avenue and 86th Street and see for yourself this great work of art.