Rene Magritte – Turning Ordinary into Extraordinary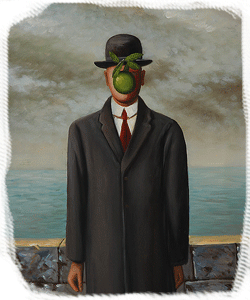 Though considered by many as a Surrealist, René Magritte was in essence a highbrow painter; his artworks served as vessels for the transformation of abstract thought into visual expression. Magritte was obsessive in redoing his previous oil paintings, ever changing and attempting to portray thoughts through the introduction of subtle compositional changes. Such thoughts were abundant, and Magritte was and still is considered an extraordinary painter, creating more than a thousand oil paintings over the course of five decades.
Magritte was born in 1898, in Belgium, the dull landscape and gloomy skies may well have influenced his flat, moody creations. He began to paint at the age of twelve, and studied art at the Academy in Brussels from 1916 to 1918. In 1926, while earning a living designing advertisements and posters, Magritte joined several friends in the formation of the Belgian Surrealist group. Magritte and his associates showed contempt to the misuse of Freudian theories in art. The group wanted to expand conscious understanding of reality by displaying utterly improbable scenes. The fantastic compositions that resulted were made even more absurd by Magritte's witty charm.
Rather than paint the conscious world, Magritte created an inverse world, carrying us with him through the looking glass in search of bizarre settings, weird objects of absurd scale, and distortions of the laws of time and matter. He reveled in making the ordinary appear strange, tearing objects from their usual contexts and planting them into utterly inappropriate settings. His legacy is apparent mostly in the works of later contemporary Pop artists like Andy Warhol, who borrowed familiar images and icons from the mass cultural landscape and presented them in a new context, thereby injecting them with new meaning. Magritte painted in the abyss between our visions and the physical world, between our attempts to rationalize every phenomenon, and the absurdity that continues to encompass life despite all efforts to suppress it.
Magritte's most famous work, Son of Man, is actually a self portrait of Magritte. The painting portrays a man in a suit and a bowler hat (a reacurring motif in Magritte's creation) standing in-front of a small brick wall. In the horizon is an ocean and cloudy skies. The man's face is largely covered by a hovering green apple. The painting depicts the biblical story of Adam and Eve, and how the modern businessman is faced with the same temptation Adam faced soon after the creation. About the painting Magritte said, "Everything we see hides another thing, we always want to see what is hidden by what we see, but it is impossible. Humans hide their secrets too well…"