Setting the mood with Art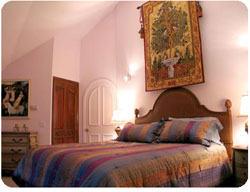 Your bedroom is your sanctuary where you are free to express yourself. Here are 3 tips to help you set the mood. Just in time for Valentine's Day!
The Colors
Reds inspire lust and passion; add reds with pillows, drapery, or a red accent wall.
The combination of cream and browns is attractive to both sexes, as are soft pastels. Add touches of nature by adding plants or freshly cut flowers. Or, consider hanging narrow vertical oil paintings of abstract or modern artists.
The Lighting
Bedroom lighting should be adjustable and come from different sources. Above your bed, mount a pair of lamps with which you can rotate or set to shine bright for reading or dim for a sensual mood. A cool trick is to adjust your wall lamps to act as spot gallery lighting for your artworks when you are not in bed.
The Art
Place your bed in the center of your wall, or where it looks best when you enter the room. If you don't have a view, hang a tantalizing image to take in as you lie in bed. Perhaps it's an image from your past, or a favorite artist reproduction that reminds you of your first infatuation.
Add these key elements and watch your bedroom transform into a seductive place that you'll find hard to resist.