Summer's Must-see Art Exhibits – East Coast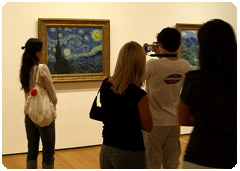 For those of you who will be heading out on vacation in the following summer months, here is a quick tour of what great art exhibits are coming your way… The next couple of days I will give a coast to coast overview of the great exhibitions and galleries to look for this summer…
Summer's top museums and gallery attractions across the country can only begin in New York. Manhattan is the un-disputed capitol of great art in the US (sorry LA)…
The MoMA, New York – Picasso's Demoiselles d'Avignon celebrates its one-hundredth anniversary, and MoMA is commemorating the occasion with an exhibition of the genesis of this important work. Included are other works done immediately prior and subsequent to Demoiselles d'Avignon, to illustrate its influence of this masterpiece on Modern Art in general and on Picasso's own career. Runs through August 27, 2007.
NEUE Galerie, New York – The collection of Neue Galerie New York covers a range of media, including painting, sculpture, works on paper, decorative arts, and photographs created in Austria and Germany between 1890 and 1940. The extended Neue Galerie collection is comprised of works by many German and Austrian artists of the times, but there is one painting that stands out and is considered the Mona Lisa of Modern times. Just catching a glimpse of Klimt's Adele Bloch Bauer is worth the visit. Runs through June 2008.
Moving out of New York City, here are some other great exhibits showing on the East Coast…
Museum of Fine Art, Boston – Featuring Edward Hopper's classic images from early- to mid-twentieth century, the collection comprises more than 90 of his works. Runs through August 19, 2007.
Museum of Art, Philadelphia – Pop Art and Its Affinities Works by artists who made important strides in the Pop Art movement are on display, including Andy Warhol and Roy Lichtenstein. Starts July 29 and runs through September 30, 2007.
So if you are tired of the art in your home or office this summer, get out and travel to see exquisite masterpieces… that's what I'll be doing… Hope you find this guide helpful, if you have any advice please share it!