Summer's Must-see Art Exhibits – Midwest & South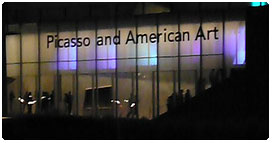 This summer's must-see art exhibits continue through the Midwest and South… Some great art shows in almost every city, I chose three that absolutely stand out…
Art Institute of Chicago, Chicago – The Impact of Japanese Prints in 19th Century Europe. The exhibition portrays the influence of Japanese prints on the New Age artists of Europe. Works by Edgar Degas, Paul Gauguin, Edouard Manet and Henri de Toulouse-Lautrec will be compared with Japanese prints. Runs through October 1, 2007.
High Museum of Art, Atlanta – Immerse yourself in France's historic art culture as part of the 2006-2009 Louvre Atlanta partnership. Magnificent paintings and sculptures acquired by France's Louis XIV and Louis XVI are on display including works by Rembrandt and Francis Boucher. Runs through September 2, 2007.
Walker Art Center, Minneapolis – This exhibition examines the Pablo Picasso had in the development of American art over the past century by contrasting his work with that of groundbreaking American artists who were inspired by his example. The exhibition features 30 Picasso oil paintings as well as a wide-ranging display of works by nine American artists: Max Weber and Jackson Pollock. Runs through September 9, 2007.
If you're busy and don't have time to travel great distances to one of these attractions, simply checkout what's going on in your local museum… they might have some great art on display… if you would like to recommend a museum then don't hesitate to let me know…