Surrealism with a pulse – Joan Miro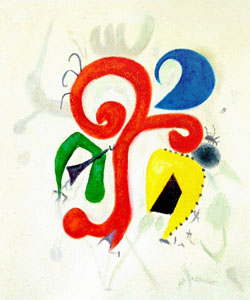 Joan Miro (1893 – 1983) was a Spanish painter born in Barcelona. Miro's art is considered to be a part of Surrealism even though he himself rejected that notion.
Miro went against the grain all his life. He detested conventional methods for oil painting and established new ways for expression with many different art forms.
During his childhood, Miro was always drawn to art, and in 1920 he finally moved to Paris. There, under the influence of contemporary poets and writers, he developed a very unique style: organic forms and flattened picture planes drawn with a sharp line.
Miro's style was influenced in varying degrees by Surrealism and Salvador Dali, yet he rejected the notion of having any affiliation to the Surrealist artistic movement. With that said, André Breton, the founder of Surrealism, called him "the most Surrealist of us all."
By not being affiliated with the Surrealists, Miro was free to experiment with many artistic forms. Miro's artistic autonomy allowed him to express himself in different kinds of media, from Sculpting, Ceramics to window painting.
Miro had far fetched ideas about gas sculptures and four-dimensional paintings, ideas that he wrote down in the last years of his life. His art is a testament of how unique and profound he was. He is a great source of inspiration to any upcoming artist.