The Blue Riders – Kandinsky and Marc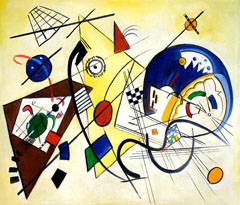 The Blue Rider (Der Blaue Reiter) was a group of artists fundamental to the rise of Expressionism in the beginning of the 20th century. Wassily Kandinsky, Franz Marc and others founded the group after Kandinsky's painting Last Judgment was rejected from an exhibition.
The name Blue Rider was derived from Marc's enthusiasm for horses, and from Kandinsky's love of the color blue. For Kandinsky, blue is the color of spirituality – "the darker the blue, the more it awakens human desire for the eternal."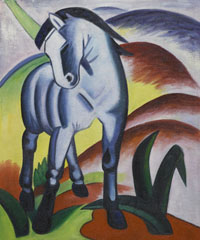 Within the group, the artists shared a common desire to express spiritual thoughts through their art. They believed in the forthcoming of abstract art; the relation of visual art and music; the symbolism of color; and an insightful approach to painting.
This important artist group was short lived and lasted only until the outbreak of World War I in 1914. Franz Marc was killed in combat. Wassily Kandinsky was forced to move back to Russia because of his Russian citizenship. There were also differences in opinions within the group. As a result, The blue Rider lasted only three years from 1911 to 1914.
Although this group of Russian and German artists didn't last very long, their works and ideas are a pivotal point in the modern art era. Kandinsky and Marc oil paintings convey many of the beliefs of The Blue Rider group. They opened the door for abstract artists to convey their inner soul on bear canvas.